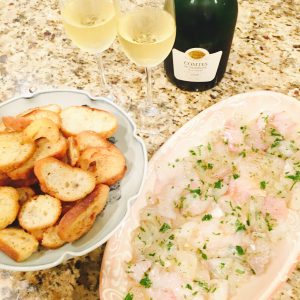 Hi, everyone!
I just would like to add one quick and easy recipe here which I have been making often this summer.
Get any white fish such as founder, halibut, red snapper. Try to cut them as very thin slices.
Marinee them with salt, pepper, konbu dashi and virgin olive oil.
Wrap and keep them in refrigerator for at least 3 hours.
Prepare 20 basil leaf and 1/4 of sweet onion. Chop them as small as you can ( you can use food professor.)
and add 4 or 5 table spoons of virgin olive oil. Add a little of salt into it (since you already gave salt onto slices of fish. You don't have to give too much salt into sauce.
When you serve, put this basil sauce on slices of fish.
This is the perfect appetizer with your favorite champagne and you will enjoy itself or with crispy garlic bread.
Enjoy this cold appetizer with your fun company!!
Love and peace,
Yuko