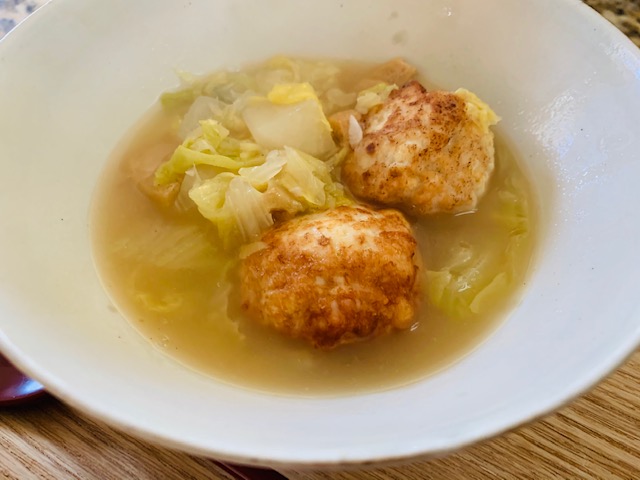 Hello, everyone, Happy New Year! I am writing this for sharing my own recipe of homemade soup which I always make for my family or friend who got sick during this cold season.
After the peak of fun season, December already passed, now we have a long winter with many different of virus around us. This soup keeps your body warm and strong ! 🙂
1. Chop ginger (6 tbsp) and garlic (2 head) and one stick of long green onion.
Cut thiner 1/4 of Chinese cabbage and 4/1 of Daikon (white radish)
2. Prepare 500g (or less) of grounded chicken. Half of one pack of tofu. Mix them with one egg and add chopped 2 tbsp of ginger and 1 chopped of head of garlic, 2 tbsp of chopped green onion, 1 tbsp of soy sauce, 1 tbsp of cooking white wine or sake, 1 tbsp of corn or potato starch powder and 1 tbsp of soup stock paste (*I strongly recommend the one in photo). Mix them very well.
3. Make bolls as ping pong size. Heat salad or canola oil in your fry pan with high heat. Once it gets hot enough, start frying meatballs with medium heat.
4.Fry them until they get light brown. Take them out on the kitchen paper.
5. Prepare the medium size cooking pot, start sautéing 4 tbsp of chopped ginger, 1 tbsp of chopped garlic and the rest of chopped green onion you chopped with salad oil. (you can also sauté with sesame oil if you would like that)
Pour the water into the pot and once it starts boiling, add cut Chinese cabbage and Daikon white radish into it.
Close the pot and wait for 15 mins until all veggies get softer. Then add fried meatballs into the soup and add 2 or 3 (if you think you need more) tbsp of soup stock.
Boil them for another 20 mins with medium low heat. Try to taste and add salt or more soup stock if you think you need it more. You can also add black pepper. ( I usually make this for someone who is sick, so I don't use pepper for him/her.)
If anyone who even has much appetite, you can still give just a soup. With this way, you can feed all your family. You don't have to think a separated meal.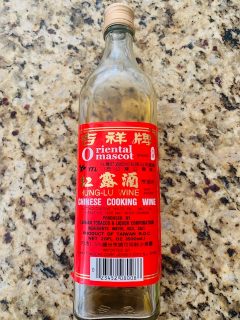 Hope this soup will heal you, your family and friends you care during this cold season with your warmest heart:)
Happy & Healthy 2020!
Always with love for cooking…
Yuko