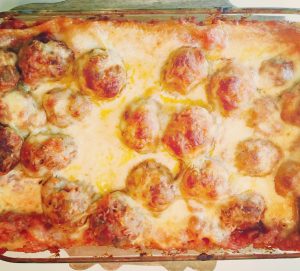 For you happy meal for everybody:)
Grounded beef  1/2 pound
Chopped  1/2 of sweet onion
1 egg
1 big table spoon of flour
1 big table spoon of powder chicken soup stock
Mix them very well with hand. Add some black pepper. Make balls as golf ball size.
Fry them with olive oil or canola oil until they get light brown.
1 pack (or can) of plain tomato sauce.
Chopped 1/2 of sweet onion
1 big table-spoon of powder chicken soup stock
1 tea-spoon of chopped garlic
Sauté chopped onion and garlic with olive oil until onion will get light brown.
Add whole pack of whole tomato pack.
Add soup stock.
Heat with medium heat for 15 mins and add Meatballs into the tomato sauce.
Keep heating with medium low heat for 20 mins and check and mix often during heating.
Whenever you think it tastes good without sourness of tomato sauce, it is supposed to be tasting very mild which is made by the nice harmony with meatballs and tomato sauce.
If your sauce tastes sour, try to add 1/3 cup or red wine. and keep heating 10 more minutes.
Place your lasagna sheet one by one with adding your cooked tomato sauce between them.
*If you think your sauce is not enough to make lasagna sheet pretty wet, you always can add 1 or 2 cup of chicken broth.
Put all meatballs on the top and add Italian cheese.
Heat it with 385F for 30 mins.
Check sometimes, you can take it out when you see the cheese gets medium light nice blown.
Kids love this menu:) Happy meal for your table on this beautiful Saturday!!
Love & Peace,
Yuko