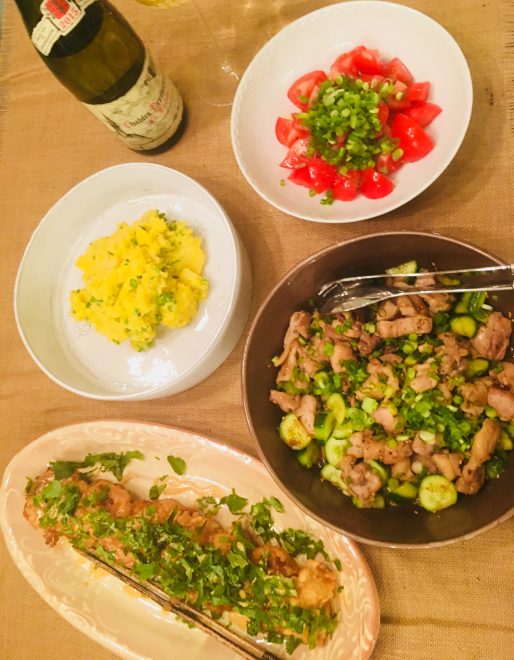 Hello, everyone!
How are you?
I would like to share with you my favorite original recipe today.
Shrimp Tempra with Mustard Mayonnaise Sauce
tempra
20 peeled shrimps
1 cup of flour
half cup of beer
salt and pepper
1 egg (only egg white)
Make tempura. Mix  them very well. Then dip each shrimp into it and fry with salad or canola oil. Fry until it gets light brown as you see my photo.
sauce
half of cup of mayonnaise
1/4 of mustard
1 table spoon of peanut oil ( if you and someone have allergy, you can always change to sesame oil:)
1 tea spoon of soy sauce
Mix them well.
topping
cilantoro is the key!!
As you see, it is very easy to make but it looks fun dish to eat and it is actually yummy!
Great dish for party as your finger food as great appetizer with beer, champagne & white wine;)
Sautéed Chicken with Cucumber
*1 pack of chicken thighs
*1 table-spoon of sesame oil
*1 table-spoon of soy sauce
*2 table-spoon of Chinese cooking sake (Chinese cooking wine, HUNG-LU WINE)
*1 tea-spoon of chinese style soup stock paste (HA-OH, www.popla.com)
Cut chicken and fry them with sesame oil. Once chicken gets cooked well enough, add Chinese cooking wine, cook for 3 mins and add soy sauce, make your stove from high to medium, cook 3 more mins.
Place them into the bowl plate.
*cucumber
Cut cucumber and mix with sauté chicken.
*1 table spoon of sesame seeds
Add sesame seeds into it. Mix well.
*scallions for topping
Cut them nicely and put them for topping!
Enjoy foods and drinks!! Love your company and conversation with them!!
Happy weekend, everyone;)
Love,
Yuko
SaveSave
SaveSave
SaveSave
SaveSave