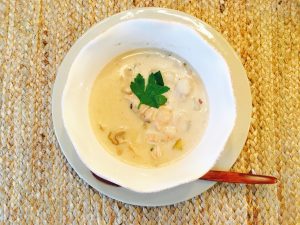 Hi, everyone!
Here is my sea food chowder which I made for my guests last week.
I know many of us might think that chowder is for winter but it is actually great with your favorite cold white wine even in Spring;)
6 peeled shrimps
chopped clams 1/4 pound
8 oysters
1 small sweet onion
a half of 1 pack of shiitake mushroom
3 table spoons of butter
10 cups (2000cc) of milk
3 table-spoons of flour ( I used gluten-free flour for my guests)
3 table-spoons of chicken soup stock
Sauté chopped of onion and shiitake with 1 table-spoon of butter and add all seafood into it.
Keep sautéing until they get well cooked.
Add 1 spoon of chicken soup stock into it. Mix well.
Take them out from the pot. Save them in the bowl.
Add 2 more table spoons of butter ( if you would like to add more, please go ahead;), add 3 table-spoons of flour into the pot. Mix well with the juice from the seafood, butter and flour well very quickly.
Then add milk little by little with mixing. The stove would be medium high heat. Be careful not to burn it.
The milk is supposed to be getting thicker and thicker, so keep adding milk little by little.
Add 2 table spoons of chicken soup stock into thick soup and mix well.
Add sauté seafood, onion and shiitake into the pot and mix with medium heat for 8 mins.
Add black pepper and salt for finishing if you think you need;)
Homemade seafood chowder is very welcoming to your guest and perfect one dish if you want to start with other appetizers, which might make them already full but they might want to have something warm.
This chowder also gets more tasty next day! Please don't forget to keep in ref over the night since it has seafood, we have to be careful with the temperature when we keep for next day since it is not winter anymore!
Enjoy!!