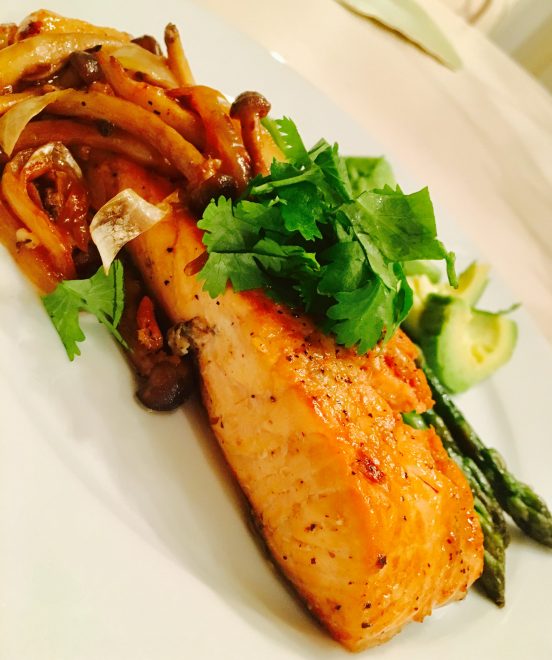 Hello, everyone!
Just quick recipe for quick dinner with fresh atlantic salmon.
salt & black pepper in advance on each slice of atlantic salmon.
Sautee slices of onion and shimeji shiitake mushroom with one big table-spoon of butter with one small tea-spoon of minced garlic.
Add one small tea-spoon of chicken soup stock paste and mix all very well.
Place slices of salmon on that pan and fry their skin first very well until it gets nice light brown and turn over to do the same thing to the other side. Once both side got nice light brown, pour half of can of beer into the pan.
Try to make the sauce to go evenly to each slices of salmon.
Cover the pan just 3 or 4 mins with medium heat.
Chop cilantro and put them for topping right before you eat!
Also just cut avocado and eat them with your every bite of salmon! Salmon and avocado are so good to eat together. And very healthy!
If you would like to have more greens, get asparagus and peel at the bottom and grill them on the pan with one tea-spoon of virgin olive oil for 4 mins. Just add your best salt and black pepper. Turn off the heat and cover the pan for 1 or 2 mins. With this way, you won't make them over cooked.
Enjoy!!