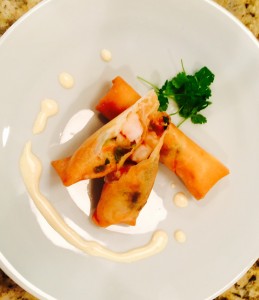 I finally made them! I had been thinking to make spring rolls but it never happened in last 4 months..But I had to eat them last night so badly…so I did!!
–Shrimp Spring Roll–
Prepare 20 peeled shrimps and cut 1/4 size of one each. Chop one block of ginger and an half of green onion or scallions.
Sauté chopped ginger and green onion with sesame oil (1 big table spoon) and add cut shrimps.
Add one tea spoon of Chinese Style Stock Paste (*HA OH more detail, http://www.popla.com) This is very useful for many cooking, btw!!
Have one tea spoon of cornstarch and mix with two or three table spoons of white wine (or sake, beer is fine, too!) and mix very well.
Add into the pan and mix everything very well until they get thick and sticky. (*corn starch & liquid does good job.)
Wrap them with wheat cake wrapper the size you see in the picture. When you close, you might want to use cornstarch & water as the glue for sticking your wrapper on.
Fry them with mid high heat until they get nice light brown.
–Sauce–
Simply mix one big table spoon of mayo, sour cream, and one tea spoon of soya sauce!
This is the best appetizer which is very light and crispy!! It goes really well with your favorite champagne, white wine and beer. I make this much smaller than this size as the finger food for the guests.
Think about trying this wonderful appetizer for your fall event!!