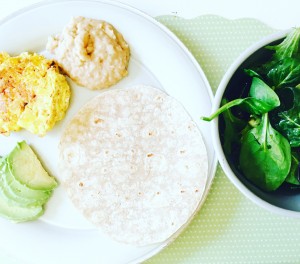 I would like to share my healthy easy menu for your Sunday lunch;)
No meat!
6 eggs.
2 avocados
1 can of white beans
Slices of an half of sweet onions
1/2 tea spoon of chopped garlic
1 cup of cheddar cheese
1 table spoon of Chicken soup stock ( for egg) *Mine is powder. If you would like to use a cube, it might be half of cube since it's more thick and concentrated.
1 table spoon of Chicken soup stock ( for white beans)
2 packs of  tortilla
(Beans)
Sauté slices of an half of sweet onions with butter and 1/2 tea spoon of until they get light brown.
Add the whole can of white beans and sauté well.
Then put them into your blender (*Vitamix is highly recommended to make very professional smooth paste.)
(Eggs)
Mix with 6 eggs and add 1 table spoon of Chicken soup stock and cheddar cheese. Add some black pepper.
Fry them as whatever you like. Like Omelette or scramble egg. It's your choice;)
(Avocado)
Just make nice slices as much as you want.
(Tortilla)
Heat the pan and make each tortilla warm for 2 minutes on heated pan.
It's absolutely easy and healthy dish. You also might want to make your salad as your additional vegetables.
And also, you might have family or friends over for Sunday lunch, this is really easy to make with them and fun to eat together around the table!
..and yes, you can also add cilantro into your tacos if you would like.
Happy & Healthy eating!!