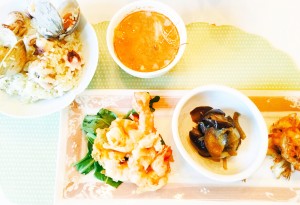 Finally, finally, I was able to go to the grocery shop all by myself!
It has been 3 weeks since I tore my muscle in my left calf, I had been away from my regular routine.
I got so excited about choosing foods all by myself. The grocery shopping is sometimes really fun and exciting because we can find the most fresh products on each day, which is always a surprise and we will never know what we can find until we get there!
I found very fresh  octopus, clams, shrimp and smelts at the fish market today and I could not ignore them.
Since I grew up near the ocean, I know exactly what fresh fish looks like;)
I cooked
1)Paella with octopus & clams with parsley & garlic with the chicken soup stock.
2)Fritter of shrimps & smelts ( mix flour & beer with garlic salt )
3)Miso soup with shrimp's heads and green onions (so good!)
4)Marinade of fried eggplants with olive oil & sweet onion with Dash-soy sauce
So happy I was able to ENJOY cooking.
I actually cooked 3 more dishes for next day's dinner;) ( After cooking my leg starts hurting, though…..)
Absolutely happy cooking time for me today!! I am on the way to be recovered for more cooking!!