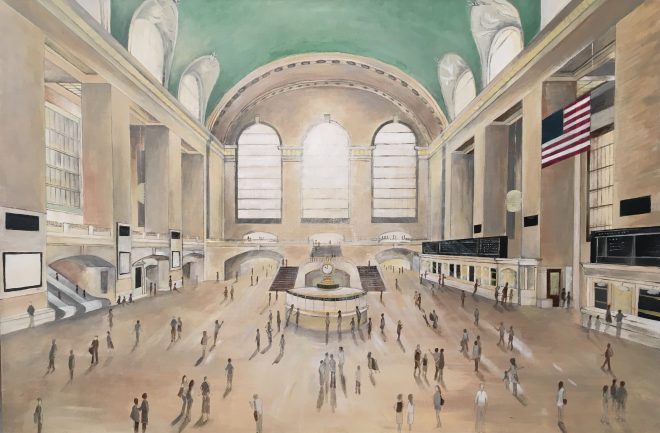 Grand Central Station is one of her favorite place in NYC.
She remembers her first time in this place looking all around at this beautiful historical architecture.
She was a student of New York School of Interior Design, where she studied architecture.
She had no idea she was going to live in NY again for long time with  her future family at that moment.
23 years has passed by since then, she often takes the train from this station to the town where she lives.
Her first sensational feeling is still in her mind every time she walks through this magnificent station.
I started painting remembering my feeling.
I wanted to express that there are so many life stories in this place with their own precious moments.
I personally remembered the day when Grand Central Station held their 100th anniversary ceremony 6 years ago, my son and the girl who was his dance partner were chosen to perform with other pairs of 5th graders on the stage for  their  ball room dance program during a ceremony in the front of Caroline Kennedy, Mayor Giuliani and all NYC executives.
I was having a flush back to that first sensational feeling I had before about Grand Central Station.
The scene with the 5th grade pairs dancing on the big stage in front of the big audience under the bright pink and purple spotlights amazed me. Who could have imagined that this was going to happen to that girl who was looking around this amazing place for the first time so many years ago.
Life is so precious. So interesting. My life has been always beyond of my imagination and plan.
=============================================
I am very happy I painted Grand Central Station.
It made me remember theses things and made me think about life and time.
Grand Central Station.
People are always crossing by each other. Time is also going by each day.
The light from that big window is always reaching out to each person to light up their life and time.
Hope you can feel it in this painting.
Love,
Yuko
P.S       For anyone would like to learn more about GCS,:) Enjoy! Click on the photo!